Ellie went to the kids concert today with one of her favorite friends, Kana-chan. It was a classical concert performed by Tokyo Philharmonic Orchestra especially arranged for kids. Ellie listened to many classical musics that she knew from Little Einsteins. She held a pen and was waving her arms to conduct the music just like Leo. We had a lot of fun! Thank you Kana-chan!
今日はお友達のかなちゃんに誘っていただき、キッズコンサートに行ってきました。キッズコンサートといっても本格的で、東京フィルハーモニー交響楽団が奏でるクラシック演奏を子供向けにアレンジしたものでした。エリにはちょっと早かったかな、とも思えたけど、リトルアインシュタインで結構聞いているなじみのある曲目だったのでエリも楽めたようです。途中では、指揮者のまねをしてかなちゃんと一緒に腕をふって指揮をしていたりも…。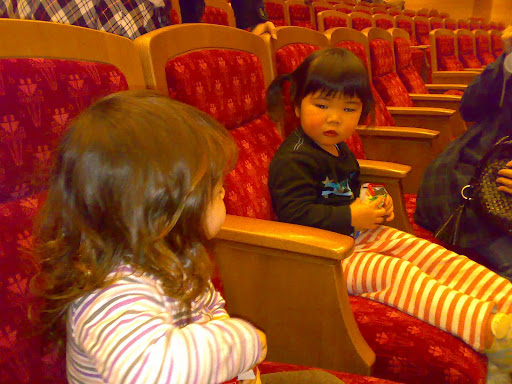 Ellie was just too excited about the fact that we are going outing with Kana-chan. So, it seems that she was enjoying more on the train ride getting there and coming back. They were giggling loud together in the train. It was kinda embarrassing for Moms...
エリは、「かなちゃんとお出かけ」という事実だけでと~っても楽しいようで、コンサートより行き帰りの電車での道のりのほうが楽しかったようです。2人してバギーにのってキャハキャハ♪同じパンフレットの同じページを開けてケラケラ笑っておりました…。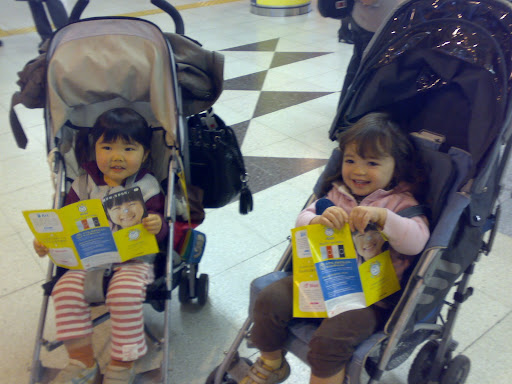 途中道に迷ったりのアクシデントもあったけど、とっても楽しいお出かけでした。かなちゃんママ、いつもありがとう!!そしてせかしてしまってごめんなさい。こんどゆっくりお茶しましょう!